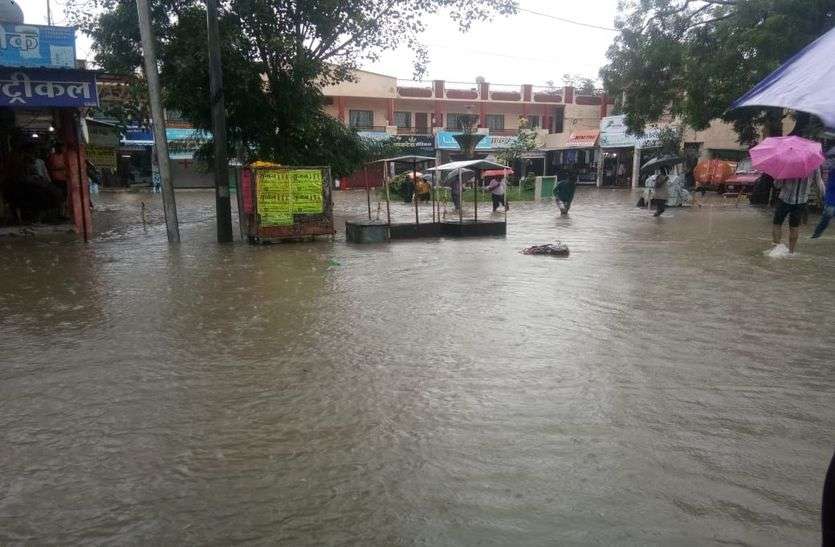 Due to heavy rains in various parts of Madhya Pradesh many areas are under floods or flood like situation. To top the situation Mandsour is under floods and hundreds people are being evacuated to safer places. Like Mandsour, Ratlam is also facing same situations. In order to deal with the situation of heavy rains in Ratlam, the district administration is constantly working vigilantly.
Rescue operations have been carried out with the help of NDRF to evacuate the trapped persons in many places. Collector Ruchika Chauhan and Superintendent of Police Gaurav Tiwari, keeping an eye on the situation, has issued necessary instructions to the field staff. Health camp was also organized at Garhi Kattara Kala.
Special arrangements were made for the treatment of waterborne diseases and viral fever. To prevent the leakage of the pond of Bhadankhurd, the team of Water Resources Department Executive Engineer HK Malviya is repairing the pond on a war footing. NDRF Inspector Ranjan told that the villagers of village Rola in Javra have been shifted to the neighboring village of Ringnod. due to the flooding in this Rola village, almost 250 people have been shifted to their food, water etc. The administration has shifted about 300 persons of Ranairagurjar to various government buildings in the new settlement above the dam. Mangli Lal Gurjar trapped in flood And Savitri Bai was rescued with the help of NDRF.