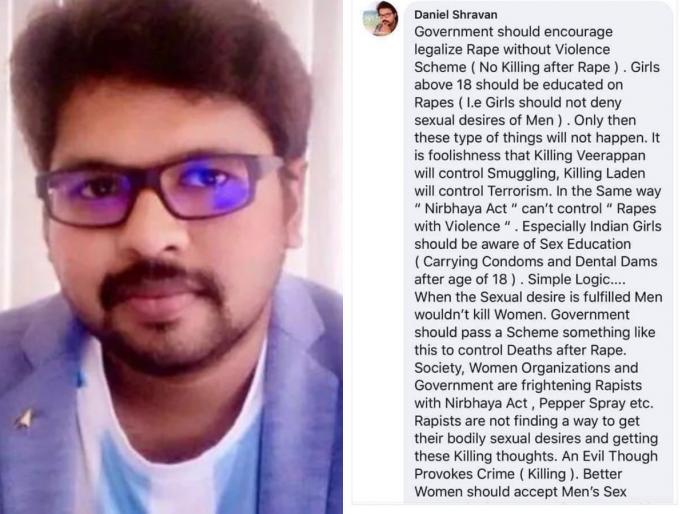 In Hyderabad, the capital of Telangana still the case of burning a female doctor alive after raping her is echoing from "Road to Parliament". In every corner of the country, there is a demand to burn the accused alive on the road. In this the same fury a film director has given a controversial statement by writing objectionable posts regarding the Hyderabad rape case.
South filmmaker Daniel Shravan has said on his Facebook post that the government should focus on legalizing rape. He further said in this post that girls above 18 years of age should be made aware of the rape. Meaning they should not ignore the sex needs of men. Only then will such things stop. It is stupid that if smuggling Veerappan will stop smuggling or if you kill Laden then terrorism will end. Similarly, rape cannot be stopped with the help of Nirbhaya Act.
Daniel Shravan has further said that especially Indian women should be aware of sex education and after the age of 18 years they should keep condoms with them. Instead of calling the police for help, women should collect condoms and cooperate with the rapists so that they do not kill them. The government should pass such a scheme so that rapists do not kill women after rape. However, Shravan later deleted his post after a dispute and posted a new message in which he apologized for his comments.
After this post of Shravan, he is being heavily trolled. A user commented on his post that your mental condition is not good and you should consult to a psychiatrist. Another user has said that whatever this Daniel Hearing is, he needs medical help, maybe he should also be killed so that his rotten brain can be cleared.